Khors est formé de figures nsbm issues des groupes tous interdits
Hate Forest,interdit en allemagne (Sonnenkreuz im Logo, werden in diversen Quellen als NSBM bezeichnet )
Astrofaes (officiellement interdit en allemagne : Die Band hat weitreichende Verknüpfungen zur rechten Szene und veröffentlichte einige Alben über rechte Labels. Die Texte scheinen aber frei von NS-Inhalten zu sein. ),
Nokturnal Mortum (Nokturnal Mortum est officiellement interdit en Allemagne) Band frontman Knjaz Varggoth is one of the foremost figures in Eastern European National Socialist Black Metal (NSBM) and has played in various NSBM bands, like Aryan Terrorism, Warhead and Temnozor. Nokturnal Mortum's albums "Weltanschauung" and "Live in Katowice" were released by No Colours Records, a German label associated with NSBM. In an interview with Frostkamp, Varggoth said that the album "Weltanschauung" is influenced by Miguel Serrano, a former Chilean diplomat, holocaust denier and major figure in Esoteric Hitlerism.[5]
Khors :groupe ukrainien, il se produit régulièrement sur scène avec Nokturnal Mortum, y compris lors des concerts de soutien au parti néo-nazi Secteur Droit, et ceux organisés par la marque néonazie de vêtements Sva-Stone. Les deux groupes se partagent un membre commun : le guitariste et chanteur Jurgis Kapinus.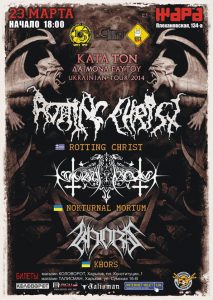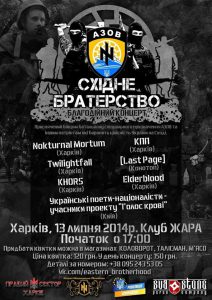 Jurgis a même composé l'hymne du Ragnard Rock, pour vous dire le degré de confiance et de connivence qui existe avec les organisateurs du festival.